Wow, a lot to unpack for this unprecedented centennial class for the HOF. They made the class bigger in an attempt to get many deserving members their gold jacket. They still will have a logjam of deserving seniors. Those are the ones that should be inducted so they can spend their last days finally able to enjoy being wrapped in that gold jacket & smile for finally being recognized.
They will have a blue ribbon panel select 10 seniors, 3 contributors, 2 coaches & 5 modern era candidates to make it a total of 20 members so they can tie in the 2020 theme with 20 candidates. The final cut will be announced in January just on the eve of the Super Bowl.
They just announced the two coaches, Jimmy Johnson & Bill Cowher live on the air during their football shows. They really are trying to hype this as they never have leaked names before, but they did pick the right shows to do it on.
On WED 1/15 on GMF on the NFL Network they will be announcing the rest of the gold jacket winners. It's surprising they are doing to on a show that early in the morning, but it does give us something to talk about the rest of the day.
They used a special Blue Ribbon Panel to do the selection. Many of the names are similar to the ones who voted for the NFL 100 All Time Teams. This time there were only 15 on the panel, so be prepared for outrage by their choices.
So let's see who is in the running for the gold jackets, here they are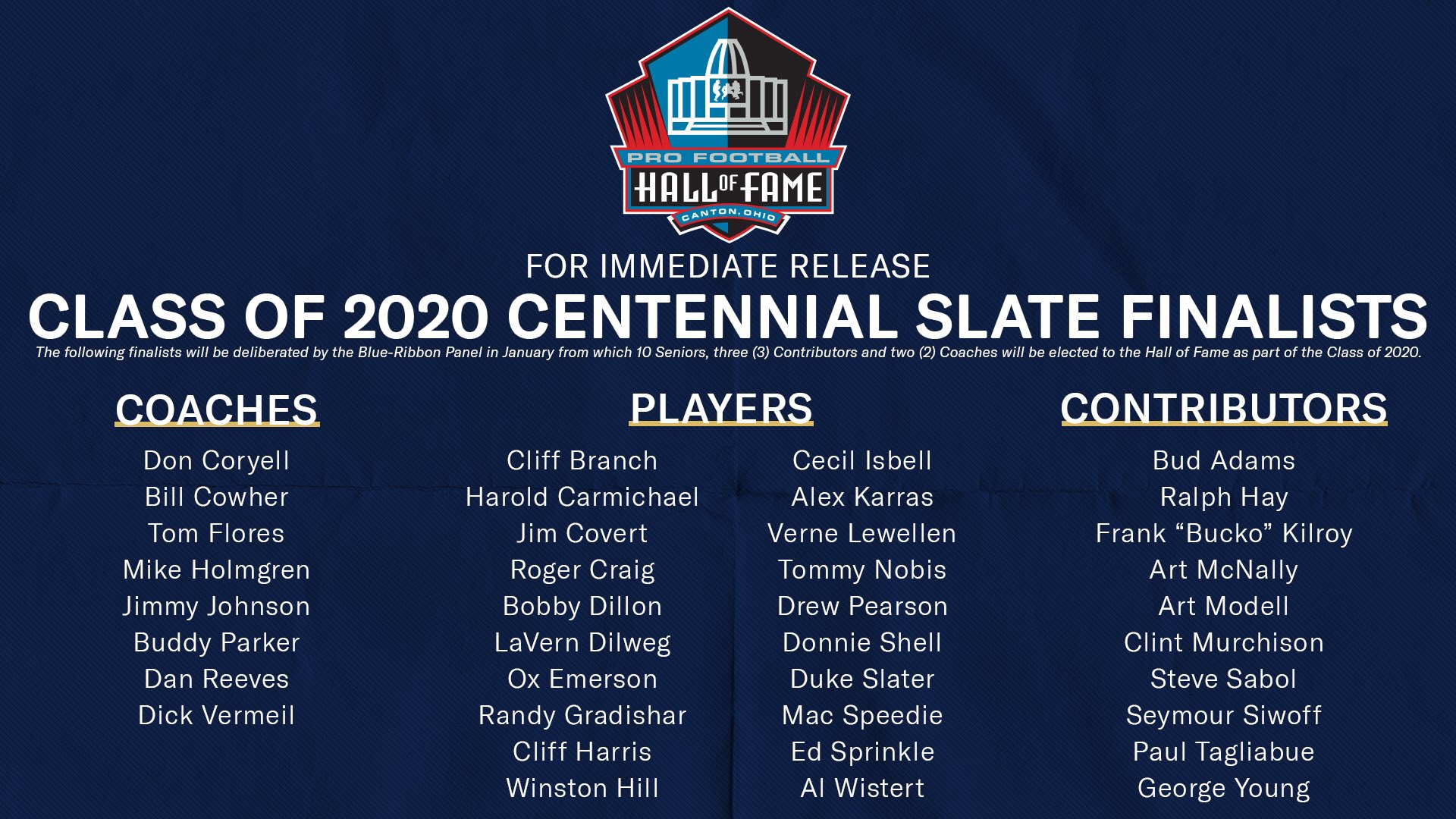 The 5 remaining slots for the modern era eligible players will be announced in January. That list of 15 will be whittled down to five to complete the HOF Class of 20
The league is making this a big promotion. The class will be enshrined on Aug 8. The 10 seniors will get a special ceremony as part of the Centennial Celebration in Canton on SEP 16-19 which will celebrate the league plus the association with Canton & the long tradition of the HOF celebrations that have taken place there.
Well, so tune in or not, as we complain or cheer about the future gold jacket members!