ESPN Insider looked a few years into the ever-changing future of the NFL and came up with a list of the Top 15 pass rushers for the 2015 season. Yes, that's not a typo, they are for whatever reason, looking four seasons ahead of 2012. It's tough to project what's going to happen in this coming season, much less three years beyond this.
However, while no members of the Baltimore Ravens made that Top 15 list, one player did get named as an "Honorable Mention." Second year Ravens DE Pernell McPhee was listed on that Honorable Mention list, which is still a nice recognition for a guy who was a draft day afterthought for the most part and a part-time player on the Ravens.
At the same time, McPhee made the most of his playing time, racking up solid stats for the season and giving hope that the pass rush will still be effective despite the loss of the NFL Defensive Player of the Year in Terrell Suggs, and his14 QB sacks. McPhee's six QB sacks was second behind Suggs, pretty impressive for a guy who played sparingly in specific situations for most of the year but figures to get a huge boost in playing time in 2012.
(See the ranking with comments after the 'Jump')
Matt Williamson put this together in ESPN Insider: http://insider.espn.go.com/nfl/story/_/id/8093186/nfl-jason-pierre-paul-clay-matthews-top-projected-pass-rushers-2015
In today's NFL, it's more vital than ever to get pressure on opposing quarterbacks without having to blitz. Spread offenses and multiple-wide receiver sets are prevalent, and passing records seem to be broken yearly.
As part of Insider's continuing look at the future of the NFL, I ranked my projected top 15 pass-rushers for 2015. I weighed a number of factors in this ranking, including consistent ability to pressure the quarterback and alter what he does (not just sacks), his variety of moves, the combination of speed, agility and balance, and closing burst. These are the guys who will be terrorizing opposing quarterbacks for years to come.
1. Jason Pierre-Paul, DE, New York Giants
Not only is Pierre-Paul extremely tall and long, but he is also powerful and incredibly agile for someone of his unique dimensions. His physical gifts are off the charts. When he entered the league, Pierre-Paul was very raw, but after registering 16.5 sacks in 2011, he is here to stay. Pierre-Paul is fantastic at batting down passes and disrupting passing lanes when he doesn't reach the quarterback. It's scary that he is this good already -- and that he doesn't turn 24 years old until January.
2. Aldon Smith, OLB, San Francisco 49ers
Smith is 22 and is already among the best pass-rushers in the league. While he was aided by a tremendous supporting cast in San Francisco, namely Justin Smith, who helped him dominate offensive lines with stunts, Aldon was phenomenal on his own. As a rookie, in a part-time role no less, Aldon sacked opposing quarterbacks 14 times. He has the long body type you look for in an edge-rusher, but he can also get low and is remarkably violent for someone with such long arms and great height. He eats up space quickly with long powerful strides closing in on the quarterback.
[+] Enlarge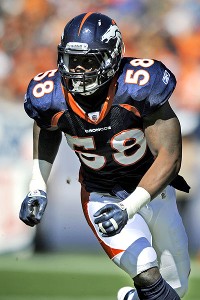 AP Photo/Jack Dempsey
Von Miller
carried Denver's defense last season.
3. Von Miller, OLB, Denver Broncos
Miller will be 26 when the 2015 season begins. Long before then, I expect him to be recognized among the elite defensive players in the league. Miller erupted as a rookie in all facets of playing outside linebacker in Denver's 4-3 scheme, but he did fall off late in the season after breaking his thumb. Miller is an extremely special player who has amazing starting speed and plays with exceptional quickness and leverage rushing the passer.
4. Robert Quinn, DE, St. Louis Rams
Choosing the top three pass-rushers on this list was easy to do. As it stands, there is a drop-off from Pierre-Paul, Smith and Miller to Quinn. But that is just because we haven't seen as much from Quinn, who has a chance to be a special player while showing impressive flashes during his rookie season. His adjustment to the NFL was more difficult than that of most rookies due to the lockout and the time he missed during his final season at North Carolina. But he is an extremely explosive player with terrific pass-rush potential. Amazingly, Quinn will be only 25 when the 2015 season begins.
5. Clay Matthews, OLB, Green Bay Packers
Mathews has already achieved greatness. He is one of the most important players on one of the best teams in the NFL and has helped the Packers win a ton of games during his three seasons. Clearly he has benefited from growing up around the game and being around phenomenal players who brought him up right. His work ethic, tenacity and technique are as good as any player in the league, but his power, leverage and explosion are vastly underrated. Matthews will be 29 when the 2015 season opens and his sack numbers dropped drastically in 2011, but I attribute that to the extreme attention Matthews receives from opponents' protection schemes. Adding Nick Perry should help that issue.
6. Chris Long, DE, St. Louis Rams
The 27-year-old Long erupted in 2011 and has begun to live up to his father's tremendous legacy. He has never missed a game over his four-year career, and Long's sack numbers have improved every season, culminating in 13 sacks last year. A much better athlete than he is often given credit for, the former second overall pick is a sound technique player and shows exceptional effort.
7. Carlos Dunlap, DE, Cincinnati Bengals
It might surprise people that Dunlap is this high on the list, but he is only 23 and his tape shows a much better pass-rusher than his stats would indicate. He needs to play a full season and has only 14 career sacks -- he dropped to 4.5 sacks after 9.5 his rookie season -- but the sacks will come in bunches for Dunlap, who is still a puppy in terms of his development. Dunlap is a bigger edge-rusher than most of the guys on this list, but that doesn't compromise his agility or closing burst.
8. Connor Barwin, OLB, Houston Texans
Barwin is simply a fantastic athlete, and his pass-rushing skills are starting to catch up with that athletic ability. But even after an 11.5-sack season in 2011, the best is still ahead of Barwin, who will turn 26 during the 2012 season. I expect him to become a household name this season and quickly establish himself as one of the most feared edge players in the NFL. By 2015, he could be at the very top of this list.
9. Brian Orakpo, OLB, Washington Redskins
Orakpo won't turn 26 until the end of July and has already accomplished quite a bit in the NFL. He might be just a step behind the truly elite athletes on this list, but Orakpo is no slouch. He is also durable, consistent and tough -- attributes that can't be overlooked and rub off on his teammates. Led by Orakpo, the Redskins have a good defensive front that is quite young. Last year's first-round pick Ryan Kerrigan should be an excellent pass-rushing edge complement to Orakpo for years to come.
10. Geno Atkins, DT, Cincinnati Bengals
The 24-year-old Atkins is one of the top interior pass-rushers in the league today. I give him extra points on this list for being a defensive tackle rather than a pure edge player like the others. He isn't built to withstand an immense pounding, and the Bengals would be wise to keep him as a part of a rotation, but Atkins just explodes off the snap and instantly is in the backfield. He has the ability to abuse heavier interior offensive linemen.
[+] Enlarge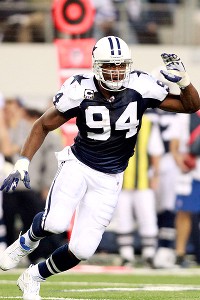 Tim Heitman/US Presswire
DeMarcus Ware
hasn't shown any signs of decline.
11. DeMarcus Ware, OLB, Dallas Cowboys
Ware might be the best defensive player in football right now. His résumé is impeccable. The oldest member of our list, this future Hall of Famer turns 30 in July, but I believe he is presently the best pass-rusher in the league and has been so for some time. Only Jared Allen had more sacks than Ware in 2011. Ware will eventually regress, but he hasn't shown the slightest bit of decline to this point, and I believe he'll still be a force in three seasons' time.
12. Mario Williams, OLB, Buffalo Bills
The Bills' huge free-agent addition is 27 and in the prime of his career. This former No. 1 overall pick should remain one of the top pass-rushers in 2015. Williams is a great athlete and a rare specimen overall, but he doesn't explode off the snap like someone like Dwight Freeney. Instead, he has tremendous power, size and arm length, all of which he uses really well to mix with far above-average movement skills. He should flourish in Buffalo on a great defensive line.
13. Charles Johnson, DE, Carolina Panthers
The Panthers signed Johnson to a huge contract before the 2011 season. While he wasn't quite the force after signing his contract as he was before, Johnson still was solid last season. He will turn 26 next month, so there is plenty of good football ahead of him. Another Panthers defensive end that didn't quite make my honorable mention list is Greg Hardy, who could help Johnson's cause going forward by preventing offenses from keying so heavily on him.
14. Tamba Hali, OLB, Kansas City Chiefs
Hali will turn 29 in November, which gives me pause about his initial burst for the 2015 season. But that burst is just superb right now, so I'll give him the benefit of the doubt. Hali finally got some edge help last season in the form of Justin Houston, but for much of the time before Houston's emergence, Hali was far and away the focal point of every pass protection scheme that Kansas City's defense faced.
15. Trent Cole, DE, Philadelphia Eagles
Cole is a fantastic, underrated player and pass-rusher. But will that hold true three years from now? Cole turns 30 this season, but he was a fantastic presence rushing the passer in 2011. Plus, the Eagles now have plenty of defensive end options to help spell Cole (and Jason Babin) and extend his career. From the honorable mention group, Chandler Jones was the one I thought had the best chance of being on this list ahead of an aging 2015 version of Cole.
Honorable Mentions (alphabetical):
Cliff Avril, Adrian Clayborn, Justin Houston, Lamarr Houston, Melvin Ingram, Bruce Irvin, Chandler Jones, Ryan Kerrigan, Pernell McPhee, Henry Melton, Nick Perry, Jabaal Sheard,Ndamukong Suh, LaMarr Woodley