Second live Mock Draft over at Mocking The Draft, this time 5 rounds. See full results here.
1. (26th) - Ryan Kerrigan - DE - Purdue - 6'4" 260 lbs
Kerrigan is a top 20 prospect this year who can play the DE spot in a 4-3 or the OLB spot in a 3-4 that would be too tough for Ozzie to pass on. Although Kerrigan may be undersized to play the 3-4 DE, he should be able to increase a Ravens pass rush at the ROLB. Kerrigan was by far one of the best pass rushers in college this year as he led the FBS in tackles for loss (26) 2nd in fumbles (5) and 3rd in sacks (12.5) where he recorded at least one sack in 9 or 12 games. Has 14 career forced fumbles, a Big Ten record, and is tied for 2nd all time at Purdue in sacks with 33.5.
Great off the snap with good enough instincts. Kills TE's whenever they try to block him. Good counter-rush moves and one of the best run stoppers in college football. Not the best explosiveness, but stays low and swims ALOT of defenders. Once at top speed, can chase down ball carriers pretty well. Huge upper body and solid wrap up tackler. Has a knack for getting his hand on the ball. 

 

Picks 2-4 after the jump

2. (58th) - Ronald Johnson - WR - Southern California - 6'0" 190 lbs
A quick riser on many draft boards, Johnson may have the best hands in this draft of WR not named AJ Green. With WR Damien Williams and TE Anthony McCoy both leaving USC for the NFL, Johnson was able to put up 64 catches, for 692 yards and 8 TD this season as Matt Barkley's go to guy.

Good initial quickness out of his stance. Accelerates smoothly, forcing the defensive back to turn and run quickly. Good foot quickness and balance as a route-runner. Uses a head fake and quick feet to gain an efficient release against press coverage.Sloppy with route running at times, but understands space as well as any WR in this draft. Run blocking has been one of his best attributes, and Ozzie will notice this. Reminds me much of Derrick Mason in how quick he can get out of his breaks.


 
3. (90th) - Ahmad Black - SS - Florida - 5'9" - 185 lbs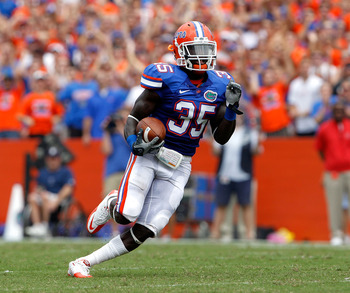 What Black lacks in size he makes up for it in a relentless style of football. With the chance of SS Dawan Landry testing the free agent market, Black could possibly be a guy to bring in and give Zbi/Ruki some competition for a starting role or bring good depth. Many other mocks have Black going as high as the top 45 picks, so grabbing him at 90 seems to be a steal. Had 11 career interceptions at Florida under Urban Meyer and was tied for first in the nation in 2008 with 7 picks.

Superb 1 on 1 tackler for a guy his size. First thing you think of when watching Black is Bob Sanders and how hard some of the little guys can still hit. While he is no where near what Sanders used to be, Black has that same fearlessness that seemed to be lacking in the so called "beast" that is Dawan Landry. Incredible instincts when the ball is in the air. Not the best run stuffer, but is willing to make the effort.

 
4. (122nd) - Austin Pettis - WR - Boise State - 6'3" 205 lbs
Part of the big blue flying offense, Pettis posted 39 career touchdowns and was consistently one of the nation's best WR at catching and running in traffic. With a junior season of 65 receptions for 855 yards and 14 TD followed by an even better senior season of 71 receptions for 951 yards and 10 TD, Pettis was one of the main focuses along side the dangerous Titus Young for QB Kellen Moore. Pettis reminds me alot of TJ Housmanzadeh

Much larger WR with even more room to add on size. Like stated above and everywhere else, Pettis is one of the best WR in this draft at working the middle of the field. Was an elite red zone target who rarely lost jump balls. Needs work on his acceleration but makes up for it with physicality to get by the defender. Not the best run blocker and tends to keep hand placement on the defender.

 
Ravens do not have a 5th round pick as it was traded to Seattle for CB Josh Wilson.